Plastic pollution has caused the death of several wild elephants in Sri Lanka as they head to toxic landfill sites in search of food.
Distressing images and video footage of wild elephants foraging for food on an open garbage dump in Sri Lanka have stunned the world and gone viral on social media. Yet, the story may never have been picked up if it weren't for Sri Lankan local TharmaASIan Tilaxan's photographs documenting the horrific scenes at the dump. His stunning photographs won first prize in this year's Royal Society of Biology's photography competition.
The dump, on the edge of a dense jungle area inhabited by a number of elephant herds, lured the elephants to it, where they spend their days foraging for food in garbage mounds and accidently eat microplastics in the process.
A COMPLETE BREAKDOWN IN WASTE MANAGEMENT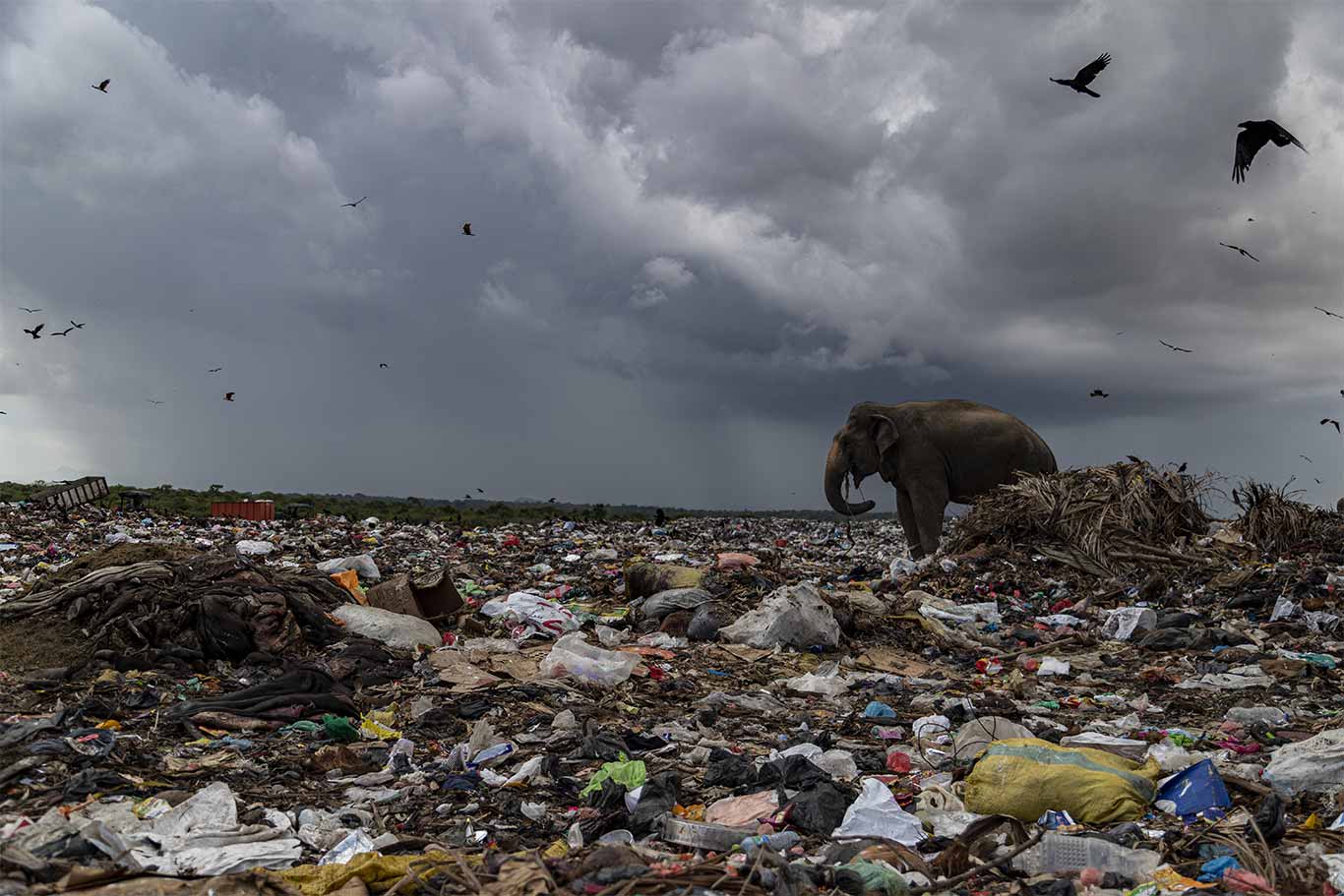 The dump is piled high with rubbish deposited by several districts including Sammanthurai, Kalmunai, Karaitheevu, Ninthavur, Addalachchenai, Akkaraipattu, and Alaiyadi Vembu on the country's eastern coast.
While there was once a fence around the dump, it has since broken down due to poor maintenance, allowing elephants – and other wildlife – free access. As the dump has 'grown', its contents have spilled over into the jungle which has now become littered with tin cans, bottles, glass, paper, non-digestible polythene bags and discarded microplastics.
The consequence of plastic pollution for wildlife is devastating. Unlike other materials, plastic never truly decomposes, staying in the environment for thousands of years. While the statistics are incomplete, experts estimate that at least 100,000 mammals and birds die a slow and painful death from plastic each year - not to mention the damage plastic does to soil fauna.
DEATH BY SHOPPING BAG AND HUMAN INACTION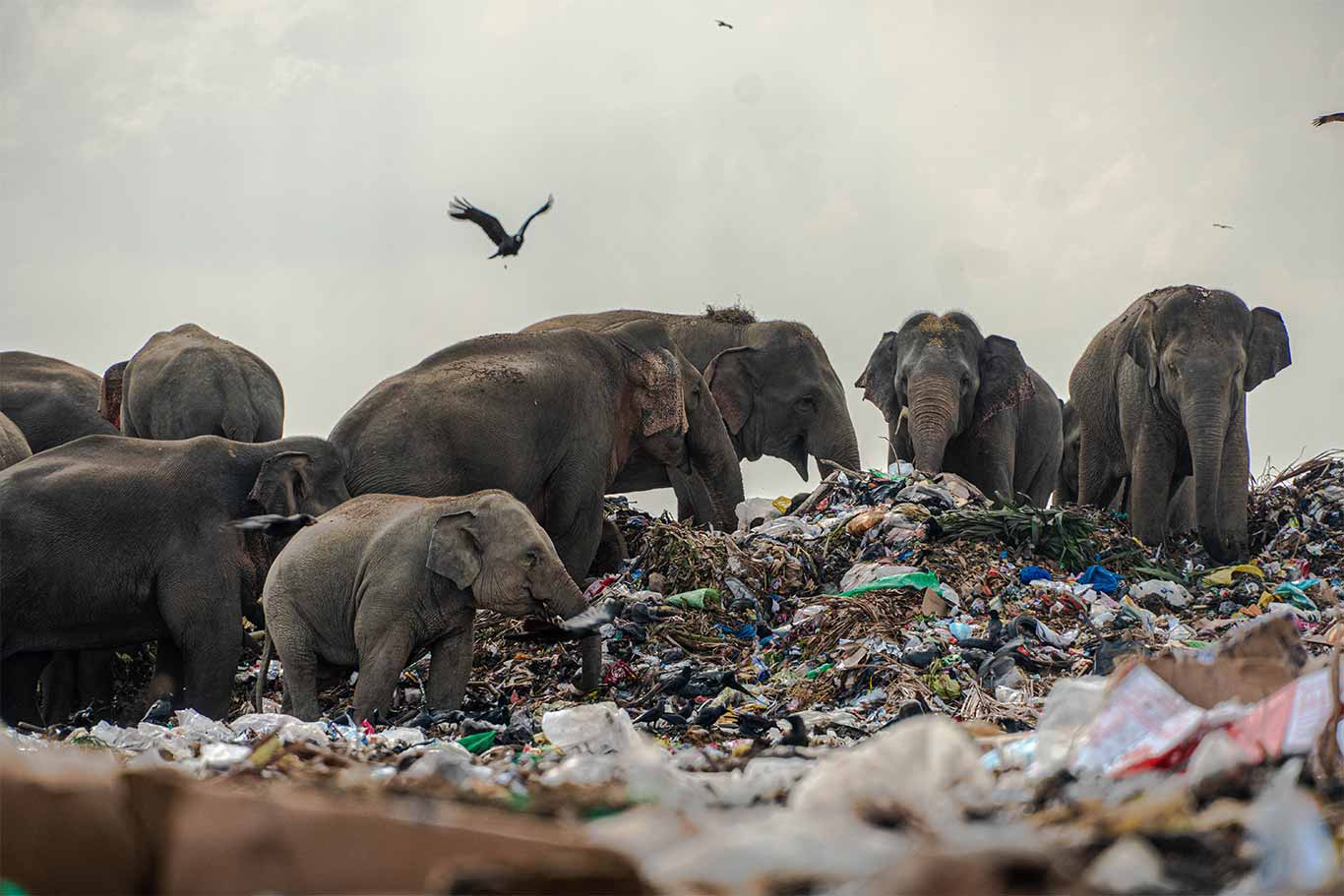 A handful of elephants (at least six, according to veterinarians) have already died. Post-mortems carried out on elephant cadavers have returned plastic products and non-digestive polythene (used to make shopping bags) in their stomach contents.
It's feared that many more lives are at stake as the wild elephants, now accustomed to human habitats, start looking for other food sources and are wandering into nearby rice paddy fields and villages.
In response to the problem, authorities in the area have discussed constructing a reinforced fence around the garbage dump and establishing recycling plants, but, as yet, no action has been taken.
"This case is more than tragic," said Nicolette Peters of that Animal Survival International (formerly Political Animal Lobby).
"While authorities in Sri Lanka banned the open dumping of garbage near wildlife sanctuaries last year to discourage elephants from foraging for rotting food scraps, they are allowing a 'killing machine' in the form of a toxic garbage dump to exist right next to the natural home of elephants. Not only have rubbish dumps put the lives of elephants at stake, it has made communities living nearby particularly vulnerable."
ASI is calling on Sri Lankan authorities to take immediate steps to relocate the dumpsite and ensure the protection of its wildlife – and its people.
READ MORE
*Feature image credited to: Tharmaplan Tilaxan