Adapted from article written by Heather Chen
Originally published by CNN (Tue, 3 Oct, 2023)
A critically endangered Sumatran rhinoceros calf has been born in a national park in Indonesia, the third successful pairing between a local female rhino named Ratu and Andalas, a former resident of Ohio's Cincinnati Zoo
The unnamed female was born on Saturday at the Way Kambas National Park on southern Sumatra island, Indonesia's Ministry of Environment and Forestry said on X, formerly Twitter.
Environment and forestry minister Siti Nurbaya Bakar said it was "happy news not just for Indonesia but the rest of the world."
Sumatran rhinos were once found in great numbers across Southeast Asia but fewer than 80 remain in fragmented areas across Indonesia, according to the International Rhino Foundation (IRF).
The calf's birth represents hope for a species threatened with extinction due to illegal poaching and habitat loss.
Photos shared by the forestry ministry showed the newborn calf, weighing about 27 kilograms (60 pounds), covered in black hair and looking bright-eyed next to her mother.
In one picture, Ratu was seen giving her baby a gentle nudge.
Within 45 minutes of her natural birth, the calf was able to stand and began feeding from her mother within four hours, the ministry said.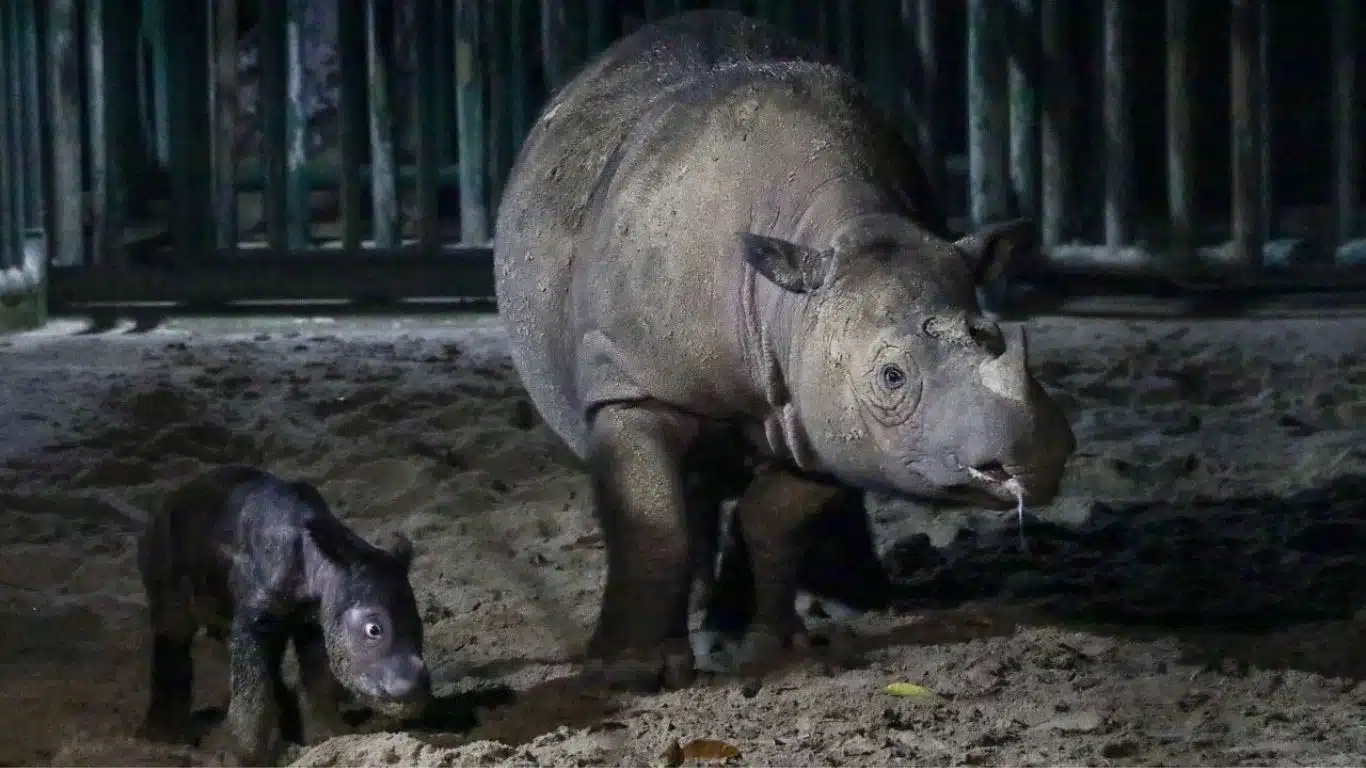 Hope for the species
Sumatran rhinos are the world's smallest rhinos, standing at roughly 4 to 5 feet tall (about 1.5 meters), with an average body length of around 8.2 feet (2.5 meters).
They are more closely related to extinct woolly rhinos than other rhino species and are covered in long hair.
Sumatran rhinos typically live in dense tropical forest, both lowland and highland, on Sumatra and are generally solitary in nature, according to IRF. Females give birth to one calf every three to four years and gestation periods can last between 15 to 16 months.
Habitat loss has driven them to occupy smaller areas of the Indonesian jungle and conservationists are concerned about the survival of the species.
"As this reclusive species seems to disappear further into dense jungles, direct sightings have become rare and indirect signs like footprints are getting harder to find," the IRF said.
"The beacon of hope for the species is the breeding program at the Sumatran Rhino Sanctuary… that has produced three calves and continues its breeding efforts to create an insurance population of rhinos."
The species was declared locally extinct in neighboring Malaysia in 2019.
A 25-year-old female named Iman died of cancer on November 24, 2019 at the Borneo Rhino Sanctuary. Her death came months after Tam – the last surviving male rhino – succumbed to organ failure, officials said.