Article written by Patrick Greenfield
Originally published by The Guardian (Fri, 22 Sep, 2023)
Tally rises to 27,000 but is still a far cry from former half a million, and Javan and Sumatran rhino remain critically endangered
Global rhinoceros numbers have increased to 27,000 despite populations being ravaged by poaching and habitat loss, new figures show, with some species rebounding for the first time in a decade.
Rhinos numbered about 500,000 across Africa and Asia in the 20th century but their populations have been devastated. Last year, they began showing signs of recovery in some areas, although two species – the Javan and Sumatran – remain close to disappearing.
Figures released by the IUCN African Rhino Specialist Group, the conservation body, indicate that the global rhino population increased to about 27,000 at the end of last year, with southern white rhino numbers increasing for the first time since 2012, from 15,942 at the end of 2021 to 16,803. In 2021, the world's rhino population was estimated to be 26,272.
Black rhinos, native to east and southern Africa, have been heavily depleted by poaching for their horns but last year increased by nearly 5%, rising from 6,195 at the end of 2021 to 6,487 at the end of 2022. This increase has happened despite a rise in black rhinos killed by poachers, and has been aided by conservationists establishing new populations that have grown in size.
"With this good news, we can take a sigh of relief for the first time in a decade," said Dr Michael Knight, the chair of the IUCN rhino group. "It is imperative to further consolidate and build on this positive development and not drop our guard."
The Javan and Sumatran rhino, meanwhile, remain critically endangered, in steady decline, and appear likely to go extinct. Officially, about 80 Sumatran rhinos remain, but experts believe there may be as few as 34, often in small fragments of forest where it is almost impossible for them to find each other and breed. In March last year, a female was born in captivity in Indonesia after several miscarriages.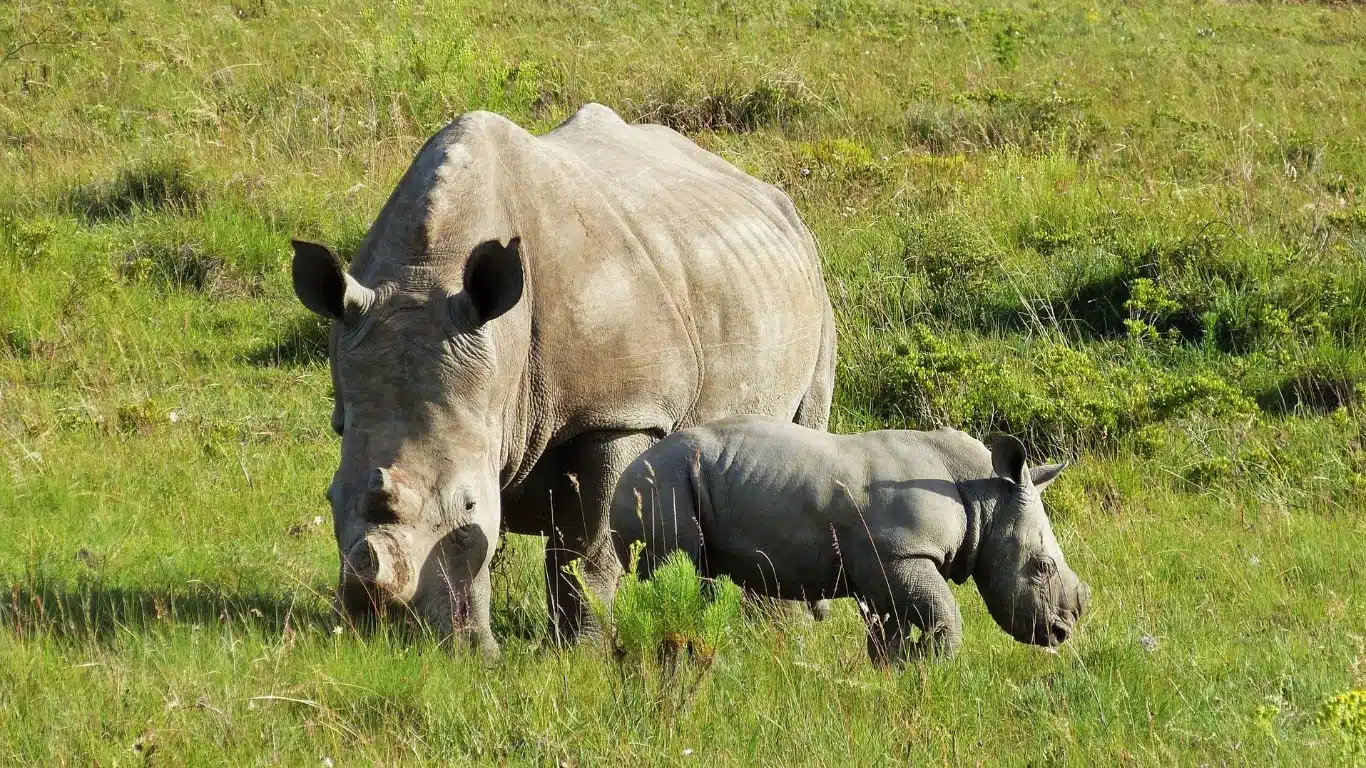 There were 561 rhinos killed in Africa during 2022, a rise from 501 in 2021 and 503 in 2020. While these numbers remain concerning, they represent a marked decline from the peak of the crisis when 1,349 African rhinos were poached in 2015 amid a huge rise in killings from the early 2000s.
"We are reassured to see long-term investment into collaborative conservation actions result in increased numbers of white, black and greater one-horned rhinos," said Dr Jo Shaw, the CEO of Save the Rhino International. "Similar interventions must be amplified to continue to address the critical situation facing Javan and Sumatran rhinos. We remain steadfast in our commitment to the future of all five rhino species."
In India and Nepal, the greater one-horned rhino population is stable at about 4,000 but conservationists remain concerned about poaching and habitat loss.
The Javan rhino population is about 76, all of them found in Ujung Kulon national park in Indonesia, but there have been signs of illegal activity in the area.