The area along the Zambezi River in Zimbabwe's Victoria Falls is a poaching hotspot. Poachers cross the river from Zambia into the Matetsi Private Game Reserve (MPGR), slaughtering vulnerable and endangered wildlife as they go. Elephants and hippos for their ivory tusks and meat; leopards and giraffes for their skin and meat; countless antelopes and other animals simply because they are there for the taking.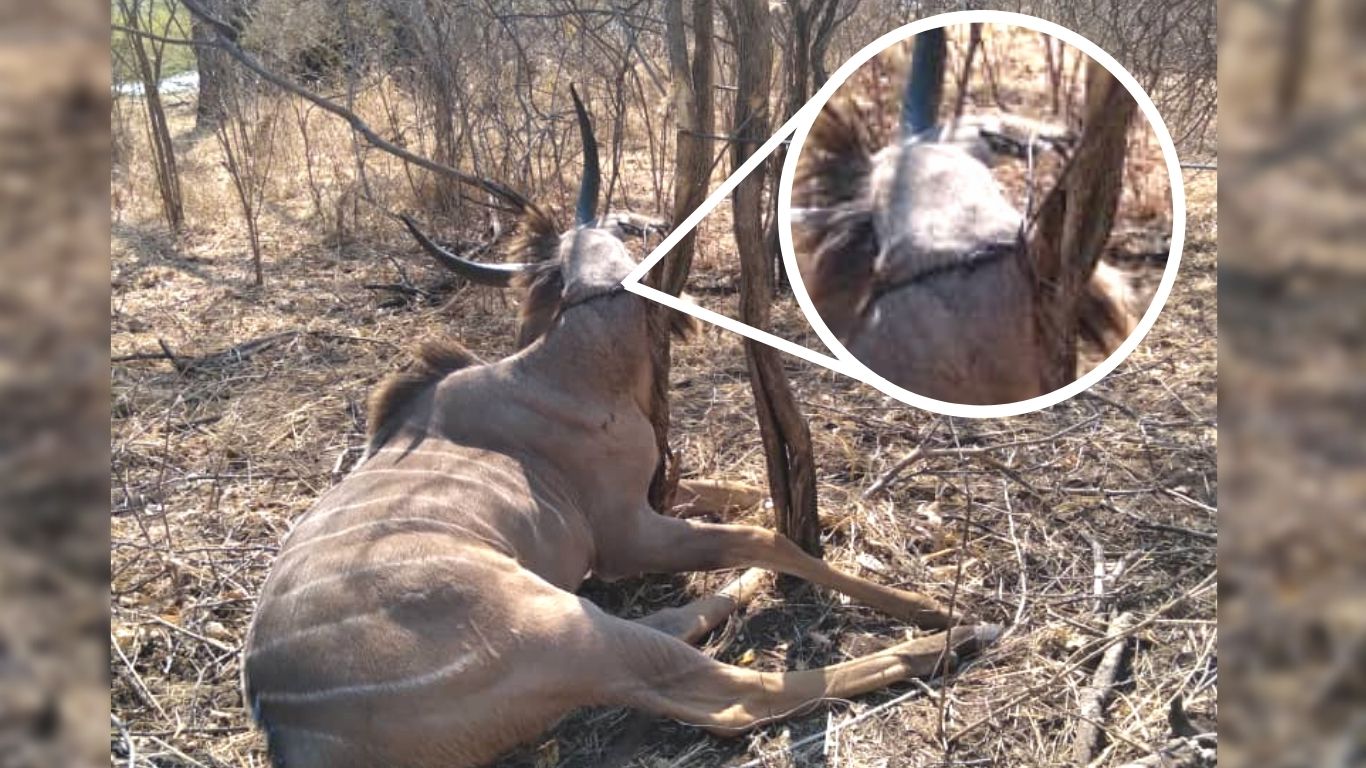 Countless animals are being killed by poachers' snares.
Credit: MAPU
Critical, keystone species are being wiped out at an alarming rate and throughout Africa, we do our best to protect them. But now, the animals who live near the Zambezi River have a big problem and need your help.
Our partner, the Matetsi Anti-Poaching Unit (MAPU), makes 95% of poaching arrests along the Zambezi River, but a crocodile destroyed its patrol boat.
Please help us get them back on the water – FAST.
Wildlife is at extreme risk, even as you read this.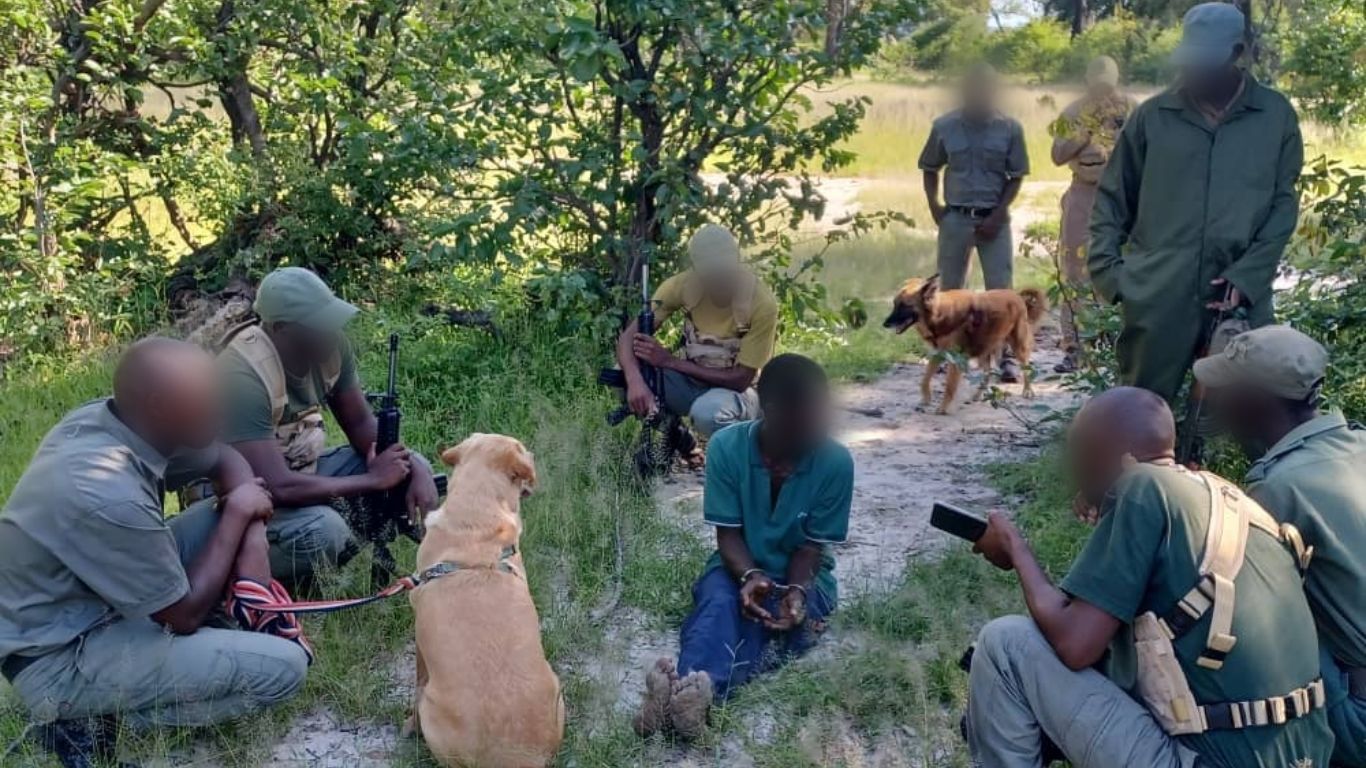 A poacher is apprehended by the Matsetsi Anti-Poaching Unit (MAPU).
Credit: MAPU
Their team comprises 50 expert forest scouts and a highly trained canine unit. MAPU patrols day and night to cover every part of the reserve and its islands on foot, by vehicle, and critically, by boat. They work in collaboration with Zimbabwe National Parks (ZNP), and over the past two years, the team – established in 2021 – has stamped out poaching in the entire reserve.
Now there is a major problem. A few weeks ago, as the MAPU team prepared to leave for an afternoon patrol, a large Zambezi crocodile attacked their boat, ripping it to shreds.
Before the croc mistook their boat for dinner, MAPU was able to patrol the river and stop poachers making landfall in the reserve. Now, poachers have the upper hand and are wreaking havoc with wildlife because of it.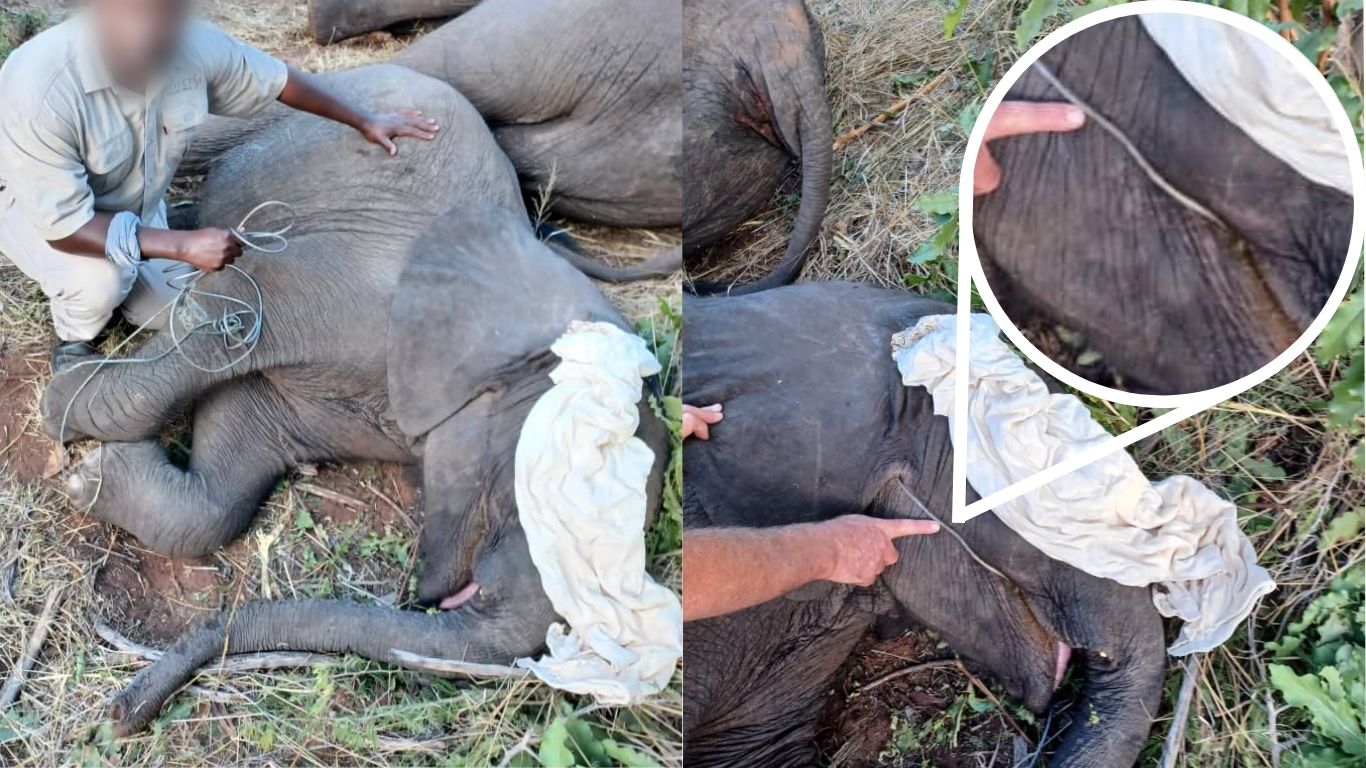 A baby elephant is freed from a poacher's snare caught in his mouth.
Credit: MAPU
With no anti-poaching presence on the river,
animals are in real peril

.

Because scouts are unable to patrol river islands and waterways, poachers can snare and slaughter animals at their leisure. Then, under the cover of dense forest spanning more than 212 square miles (55,000 hectares or 550 square kilometers), they can lay traps for unsuspecting animals.

Securing the perimeter of the Matetsi game reserve is vital in protecting animals. Regular boat patrols enable MAPU to investigate suspicious activity along the 16-kilometer (10-mile) riverbank, remove snares, and help trapped and hurt wildlife on islands that cannot be crossed without the use of a boat. One horrifying example is that poachers can kill a hippo and whisk its carcass back to Zambia in under an hour.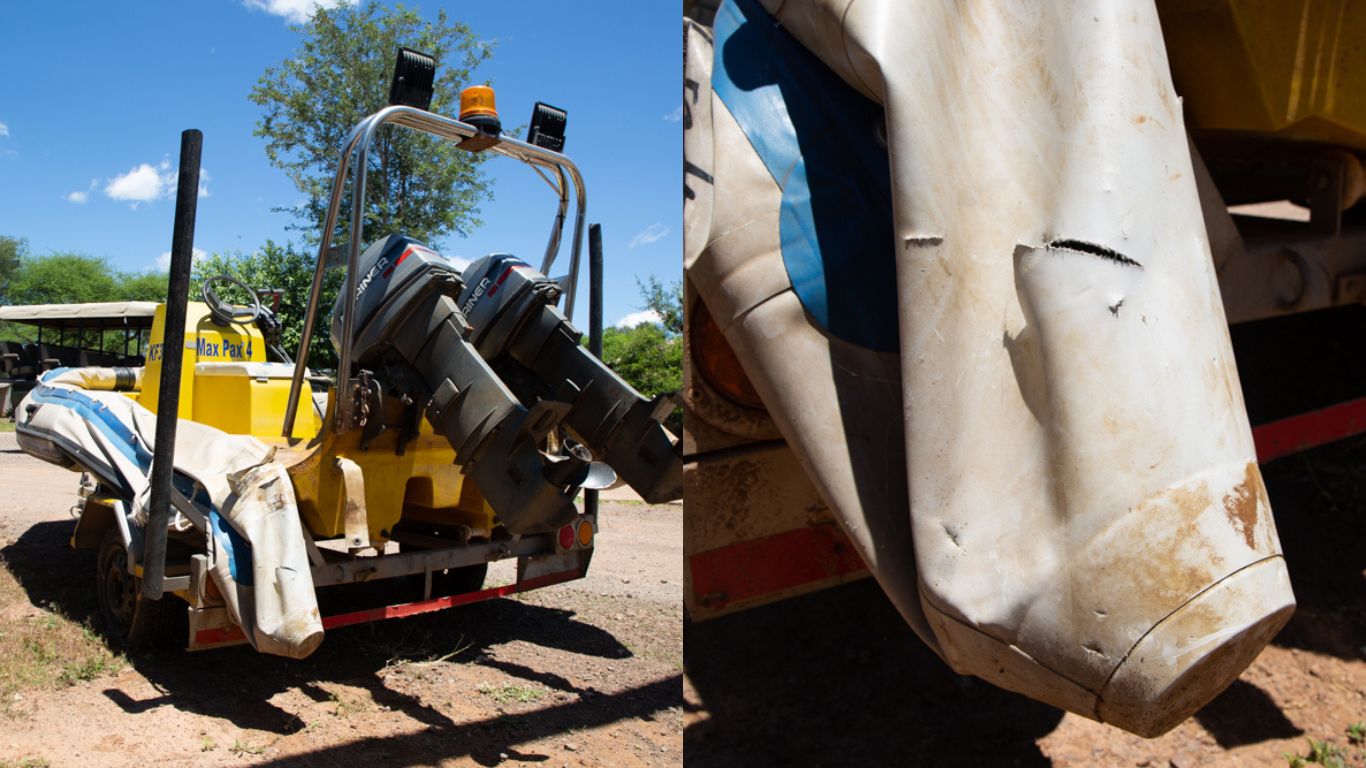 The MAPU patrol boat was destroyed in a crocodile attack.
Credit: MAPU
MAPU urgently needs a replacement boat.
It will cost $11,000 (£9,305) for a good-quality, second-hand boat with a reinforced aluminum hull. This will enable the boat to be piloted through the rapids and shallow waterways where poachers tend to hide. It will also be easy to lift in and out of the water, which will allow for quick and easy access when the team is alerted to illegal activity on the river. And of course, crocodiles will not be able to snack on it!
It is critical that we purchase an anti-poaching boat to help protect the magnificent wildlife of Victoria Falls.
Please help us right now.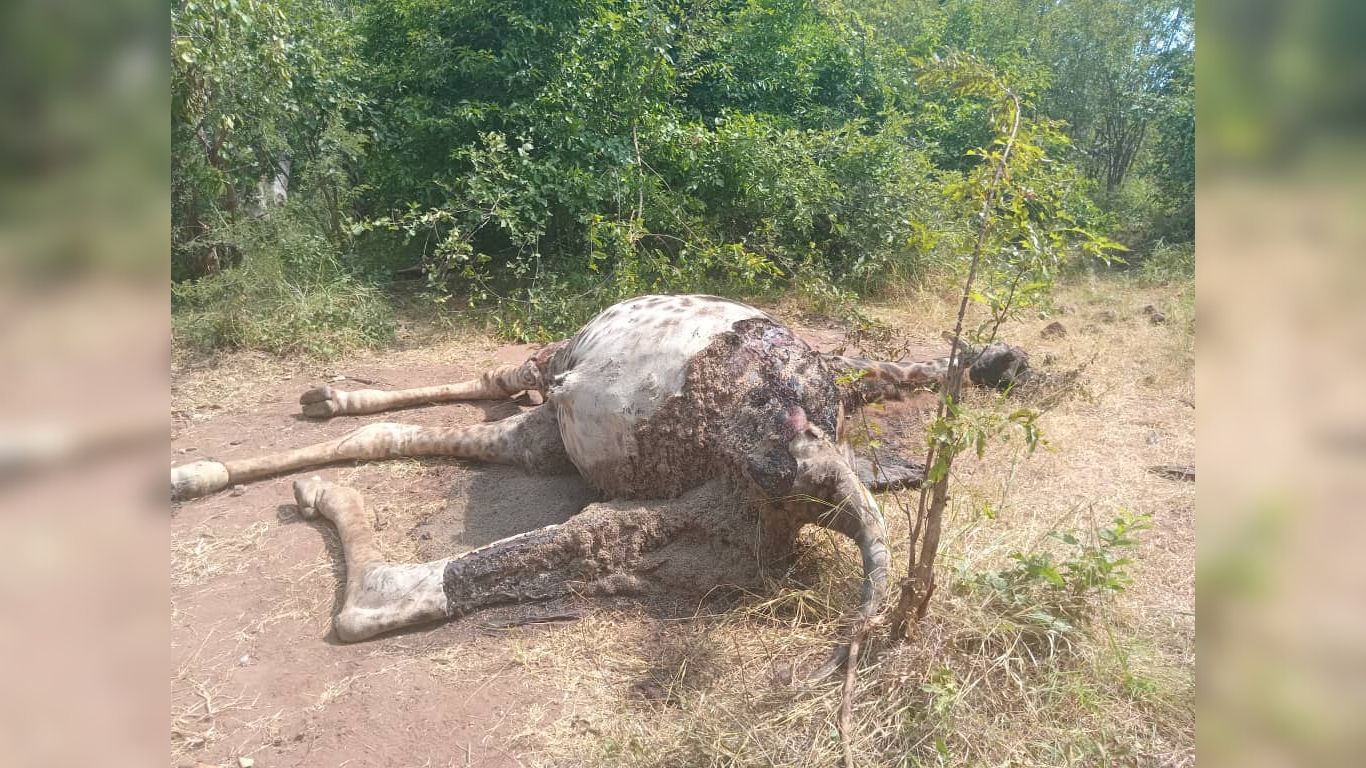 The tragic fate of a giraffe caught in a poachers snare.
Credit: MAPU
Thanks to MAPU's efforts in securing the perimeters of their reserve, they have been able to successfully reintroduce waterbuck and have plans to reintroduce black and white rhinos and pangolins. But these plans are in jeopardy: without a boat, they cannot fully protect the reserve, so they cannot risk vulnerable animals in a poaching hotspot.
Please help us get MAPU back on the water as soon as possible. Wildlife is severely threatened without regular river patrols, so there is not a second to lose. Please, donate now and help us save elephants, giraffes, leopards and other important wild species of Victoria Falls.