In December, we told you about four rhino calves who had been rushed to our partner, the Care for Wild Rhino Sanctuary (CFW) in Mpumalanga, South Africa. The baby rhinos had been left abandoned after poachers mercilessly slaughtered their mothers.
Left Aquazi being transported to safety, right Aquazi in ICU
We reached out to you for support, and you responded generously, allowing us to send critical funds to kick-start the intensive medical care and rehabilitation for the four calves.
But one of the baby rhinos has taken a
sudden turn for the worse

!

We received the heartbreaking news that our beloved Aquazi, who was only a few weeks old when rescued, is not doing well. Recently, his guards reported that the young rhino was having difficulty breathing.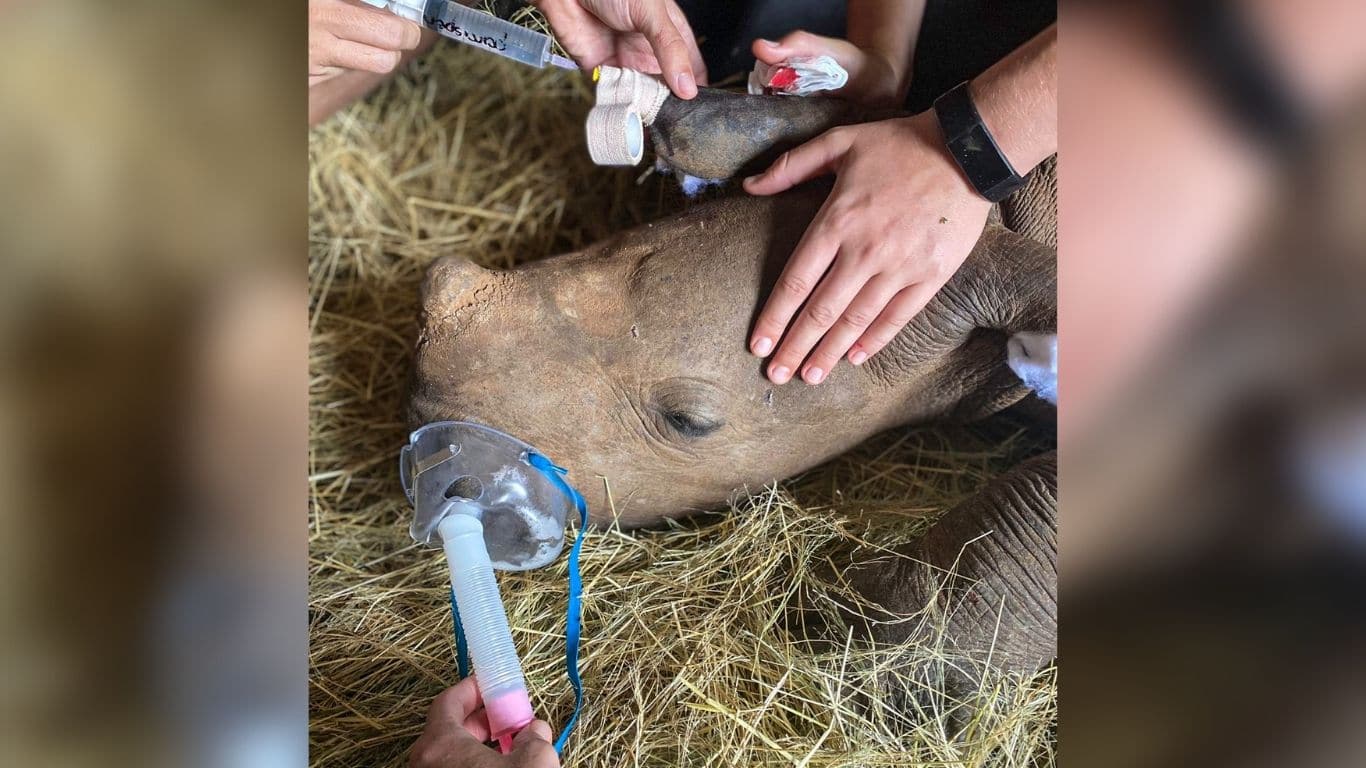 Aquazi was immediately rushed to CFW's intensive care unit (ICU), where it was discovered that his oxygen levels had plummeted. The young rhino calf now remains in ICU, fighting for his life.
In order to save this young rhino's life, the CFW team will continue to work tirelessly, and never leave his side. He has already been given blood plasma administered intravenously, which has helped boost his immune system and protein levels but now he requires LIFE-SAVING ANTIBIOTICS, X-RAYS and OXYGEN THERAPY.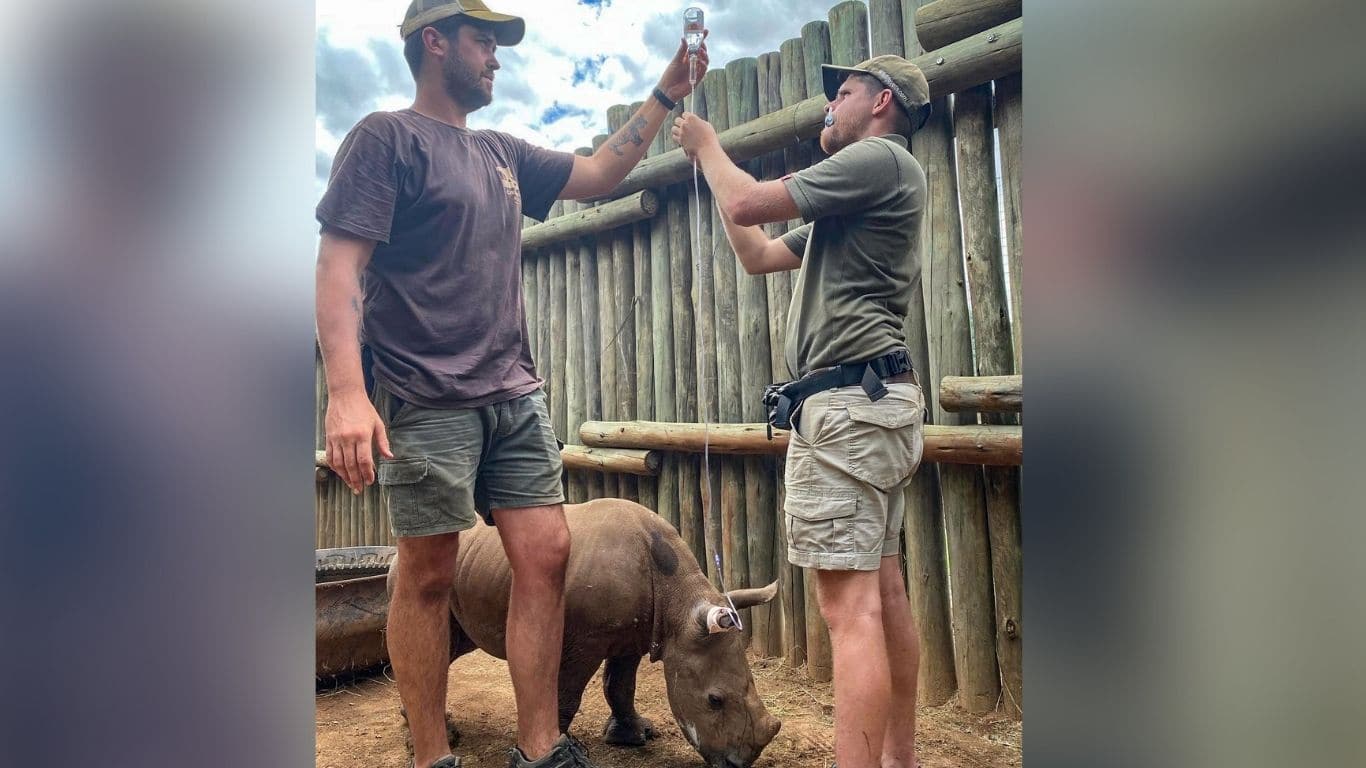 Aquazi is so fragile that he must have expensive 24-HOUR-A-DAY CARE. We cannot give up on him now! Please, help us raise the $5,000 (£3,700) needed to give Aquazi a chance of survival!
It's a miracle that Aquazi is still alive!
We MUST do our best to save him!
This baby rhino is in an epic fight for survival. Forced to navigate a world without his mother at only a few weeks old, then surviving severe pneumonia and compromised lungs, this little rhino desperately wants to live. 

It is no exaggeration to say that Aquazi's survival is important for his entire species. In South Africa, a rhino is killed for its horn every 22 hours. If this continues, soon rhinos will be gone from the world forever. Every rhino life is critical for their survival!
Rhinos in Africa are at risk of extinction. Rhinos are prized for their horns, which are used in Asia for phony traditional Chinese "medicines". South Africa is a hub for the illegal trade which has led the country's rhino population to decline drastically. If we don't do everything we can to save rhino lives now, they will be wiped out in a matter of years.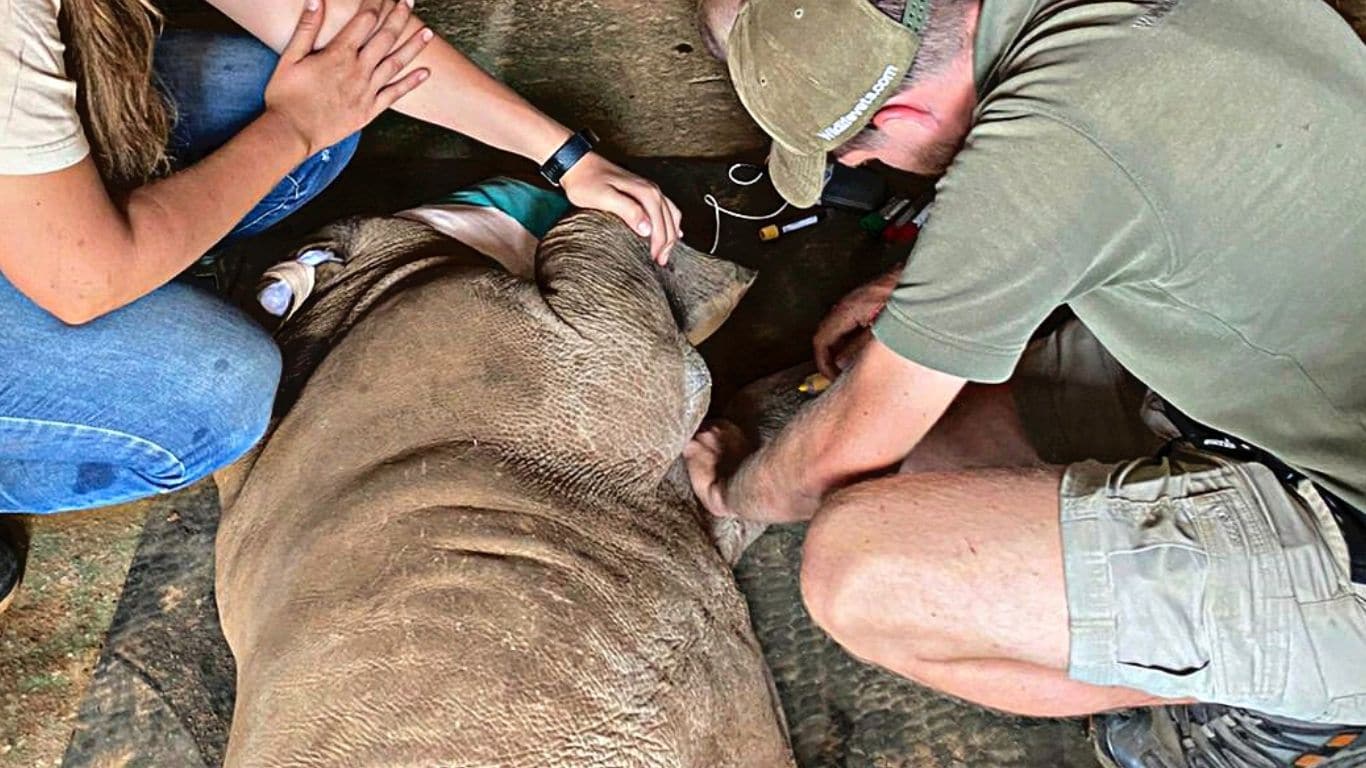 Please, help us secure little Aquazi's survival!
He is fighting so hard to survive, and his team of caregivers continue to give him the best possible around-the-clock care. But this baby rhino is still very young and won't be able to recover from his dangerously low oxygen levels and bacterial infection without our help. Please, donate now and help us rush emergency help to Aquazi!